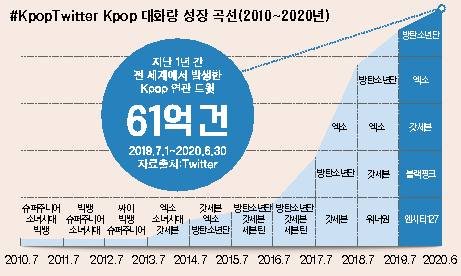 The "#KpopTwitter 2020 World Map", which Twitter analyzed along with music startup Space Odyssey's "Kpop Radar" (www.kpop-radar.com), contains information about popular artists in countries with a lot of tweets and conversations about Kpop over the past decade.
━ tweet curve also changes popular artists
You can also find out about the most popular artists by year in the conversation growth curve. Kpop-related conversations surged in the first half of 2016 to the first half of 2017, the steepest rise between the second half of 2017 and the first half of 2018. In May 2017, BTS first won the Billboard Top Social Artist category, and on November 13 of the same year, it reached 10 million followers.
On July 8, 2017, EXO launched its official Twitter account, announcing #KoKoBop을, making it the world's most mentioned song in 2017. Around 2017, Godseven, Seventeen, BLACKPINK, Warner One and NCT 127 used Twitter to connect with fans around the world, driving Kpop to twitter's most popular genre. BTS ranked #1 in tweets in 2016, 2017, 2019 and 2020 for 4 tweets.
━ Kpop Tweet users, net in the U.S. and Japan and Korea
The countries with the most kpop tweeting users were the United States, and Japan and South Korea ranked second and third, respectively. By tweet volume, Thailand was confirmed as the country with a large number of enthusiastic Kpop fans, followed by South Korea in second place.
The most mentioned Kpop artist in the last year was BTS. Of the 20 countries that were released, Godseven was the most mentioned in 19 countries except Thailand.
In addition to BTS, which ranked #1 in the global Kpop artist rankings, exo, Godseven, BLACKPINK, NCT 127, MonstaX, Seventeen, NCT DREAM, Twys and Stray Kids were honored.
Twitter also unveiled the Rising Kpop Artist, which received a surge in tweet mentions from July last year to June of this year. Stray Kids was ranked #1. Eighties, Tomorrow by Together, AizuOne, SuperM, Abyx, Waitress, Sion V, SeaIX, Girl of the Month, and Not the Girl of the Month were also ranked.
Twitter Announces '2020 World Map' #KpopTwitter 10 Years of Kpop Tweet Analysis