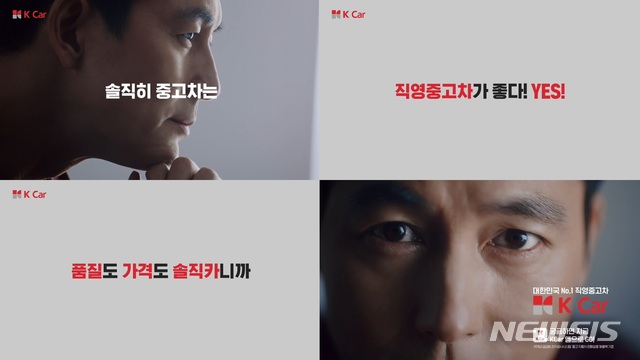 Kb Capital's KB Chacha chacha competed with Lee Byung-hun and Deutsche Autoworld as models, as the large used car brand K Car became popular with actors Ha Jung-woo and Jung Woo-sung as representative models.
Keika da was the first place to write big models. Keika, the largest used car company in Korea, appointed actor Ha Jung-woo as its representative model in 2018, and this year it adopted Jung Woo-sung as its new representative model.
In a recent advertising campaign, "Keika is honest" with the brand slogan: "Used car is not a good thing for sale. He emphasized the importance of quality rather than quantity.
The company maintains a used car trading online platform that emphasizes volume, and has introduced a proprietary system that emphasizes the benefits of reliable and secure selling. The Keika direct system is one of keika's unique strengths, as it buys used cars directly, diagnoses them, and takes responsibility after sales. Unlike online platforms that only act as intermediaries through direct systems, the inability to have false sales has also helped to build consumer confidence.
KB Chacha, operated by online brokerage platform KB Capital, has been aggressively advertising this year, selecting top actor Lee Byung-hun. In the new TV CF, he said, "Come to number one," and he went on to emphasize that he has the most used car for sale.
Deutsche Autoworld is the new place to compete for top models in the used car industry. Deutsche Motors, the official dealer of BMW Korea, recently opened the "Deutsche Autoworld", a automotive complex, and is promoting the actor Won Bin.
An industry insider said, "The used car market is about twice as large as the new car market, but the lemon market image is strong, so it's a strategy to use the big model that is influential to the public to increase brand credibility."