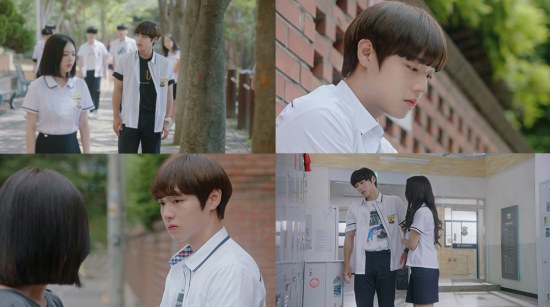 Kakao TV's original KBS Drama Special 'Love Revolution' is gaining popularity with the endless straight romance of Park Jihoon, which is instantly greeted by the black-and-white goddess Prince Lin. In particular, Prince Lim, who had turned away from the infinite love attack of Princess Young, finally accepted Princess Young's sincerity in the last 7 episodes, declaring the official couple, and fans' expectations are high for the rosy romance they will unleash.
Contrary to the expectations of these fans, the steel cut released on The 15th shows not princess yeongyeong "Onminam" princess young, but rather a different look of Princess Young, which is full of cool and cold energy. He looks angry and cold toward the prince's forest as he walks ahead, and his intense eyes and irritable face in front of the former student. Furthermore, in another scene, she showed off her unfamiliar feelings, shaking her head, tears in her eyes, and expressing her feelings of emotion.
In addition, it was revealed that she was resolute in pushing her with a cold expression toward her aggressive dash girl, Jang Hae-hee (Lee Se-hee). The cold, chilly change of Princess Young, who was misunderstood by The Prince Lim but was unable to treat Jang Harry in a wee.
There is a growing interest in why Princess Young's love affair with The Love Man, who was spewing bright, cheerful energy and the cold reaction of the prince's forest, has changed, and what has changed the romance between Prince Lim and Princess Young, who thought she could only walk the flower path.
In episode 8, the production team said, "In episode 8, Princess Young, who has only revealed only her love for Prince Lim, is angry for the first time, and an event that can seem to show tears," the production team said, "And i would like to ask for a lot of attention and how the romance of those who have just started a relationship will flow."
In addition, "Love Revolution", which makes you wonder about the next episode whenever every episode is released due to the unpredictable gag romance of Princess Young and Prince Lim, will be released twice a week, starting on Episode 8, which will be released on The 15th, every Thursday and Sunday at 5 p.m.
Kakao TV's original KBS Drama Special 'Love Revolution', curated by Kakao M, is gaining popularity by capturing the 10 generations of love, friendship, and dreams with a realistic capture of their own selves in accordance with the sensibilities of today's times. 232 Artist's Webtoon of the Same Name is originally, ranked no.1 in The Webtoon floating Thursday since the 2013 series on Naver Webtoon, and rated 9. He has scored 9 points and has been a constant favorite, especially in his 10s and 20s. KakaoTalk's "Kakao TV Channel", "#카카오TV탭", and Naver Series On are available every Thursday and Sunday at 5 p.m. Each 20 minutes, 30 episodes in total.