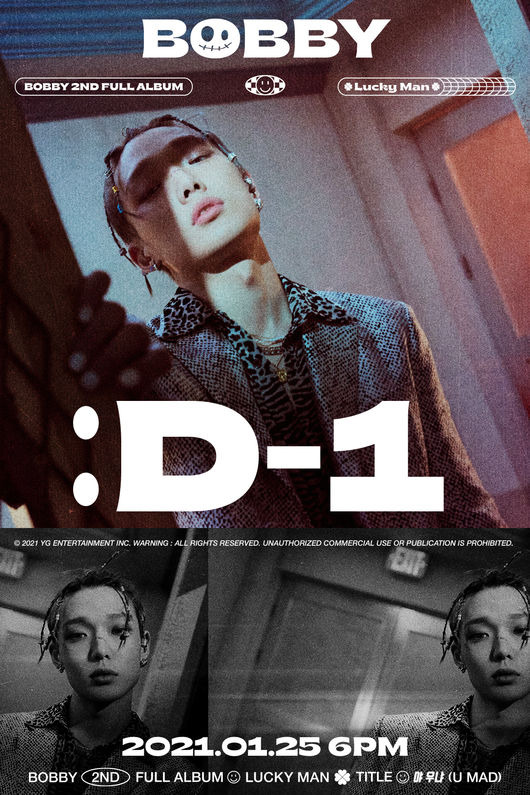 [OSEN= reporter Lee Seung-hoon] Icon (iKON) Barbie started the comeback engine by spewing powerful energy just a day before the release of his second solo album.
YG Entertainment posted Barbie's regular 2nd album [LUCKY MAN] D-1 Poster and Museum of the Moving Image Poster on its official blog on the 24th.
Barbie, who produced a strong image with colorful styling, is also impressive, and his eyes in the noise effect and black and white tones were intense, stimulating the curiosity of global fans.
The BGM used in the Museum of the Moving Image Poster caught the listener's ear. The melody, which started with the sound of the car engine and gradually increased the tension, was full of excitement.
In particular, Barbie's free-spirited gesture, which freely rides rhythms to the sound source, blended with the peak sound of the second half and raised expectations for euphemism.
Barbie is attracting attention with her unusual teasing content every day before her solo comeback in about three years and four months.
Barbie in the music video teaser of his regular 2nd album title song "Ya Ugna (U MAD)" which was released twice in recent years predicted characters of opposite images.
The fans' curiosity reached the peak of the music video storytelling that Barbie, who showed both strength and softness, will unfold.
Meanwhile, Barbie participated in the composition and composition of all 17 tracks included in the regular 2nd album, including the title song "Ya Ua (U MAD).
Barbie's solo regular 2nd album [LUCKY MAN] will be released at 6 pm on January 25, and he will open 'Countdown Live' through Naver V Live an hour ago and meet with fans first.
[Photo] YG Entertainment