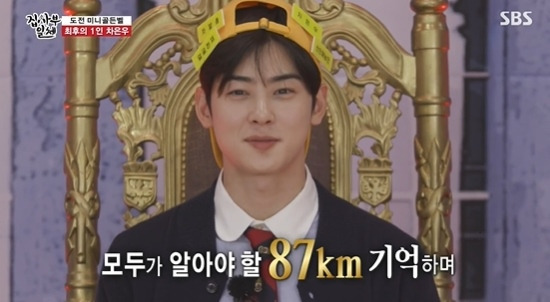 Peppertones and Yoon So-hee appeared on SBS 'All The Butlers' broadcast on the 31st.
The theme was study: Cha Eun-woo said that he was third in the school in middle school. Lee Seung-gi said that 10th place in the school was the best. The production team said that they would take two questions out of the actual test subjects. Cha Eun-woo started the calculation immediately, opened the pen lid with his mouth and solved the problem. The members who watched this followed Cha Eun-woo, and Yang Se-heeong said, "The children who erase the math were so sexy."
Next is English: Lee Seung-gi confessed, "I wanted to go outside as a leadership model, but I was mad," and said, "Give me the air conditioner. "Who is the speaker?" Lee Seung-gi said, "I was comfortable when I heard it."
Kang Sung-tae, the god of study, and Kim Ji-hoon, the 2021 college entrance exam scorer, appeared. Lee Seung-gi, Shin Sung-rok, and Kim Dong-hyun embraced Kim Ji-hoon, saying, "I will be the first to see the SAT." Kang was 396 out of 400.
They told me about their tips on studying. Kim Ji-hoon said that he had studied quantity, not time. "Iris is doing the drama at 10 p.m., and I have to finish my target by then, so I have to stand up and want to go to the bathroom."
In the meantime, Lee Jang-won, Shin Jae-pyeong and actor Yoon So-hee of Brain Peppertones, the representative of the entertainment industry, appeared. Shin Jae-pyeong said, "I was a student who was studying during my school days. I am from Gyeonggi Science High School. And I graduated early? "Lee said," I graduated early, and I went to computer science with re-evaluation and motivation. " Yoon So-hee said, "I graduated from Sejong Science High School in my second year, went to KAIST and majored in biochemistry."
The "Challenge Mini Bell" began. The first issue was the flag. Kim Dong-hyun said Cameroon and Shin Sung-rok called Ethiopia. But Kim Dong-hyun convinced Lee Seung-gi was Cameroon, saying he was twice wrong. The answer was Cameroon.
Lee Seung-gi chose Chinese characters and said, "I have a Chinese character 4 certificate. My father is a Chinese character 1 level. Lee responded, "I know more Chinese characters than I thought. I'm going to eat." It was a problem to write the "beauty" of gourmets in Chinese characters. Yang Se-heeong said that "beautiful beauty" was never, but the answer was "beautiful beauty." It was Lee's victory.
Soon So-hee and Cha Eun-woo played a big match with the same 'Corona' and 'Sinabro'. Yang Se-heeong reversed with a "fire" hit, but the KAIST team tied the game again with a BRICS five. In the folk play issue related to Yi Sun-shin, Kim Dong-hyun and Lee Seung-gi answered differently. Lee Seung-gi pushed Kim Dong-hyun when Kim Dong-hyun was sure of his answer. The answer was not 'Rattle Bull Play' but 'Ganggangsullae' written by Kim Dong-hyun.
The butlers who won the match against the KAIST team chose Cha Eun-woo as the last one, a problem that hit the distance between Ulleungdo and Dokdo. "I know it at 10 ri and 4 km," Cha Eun-woo wrote, adding that the song "200 ri" was 80 km, but the answer was 87 km.
/ Photo = SBS broadcast screen