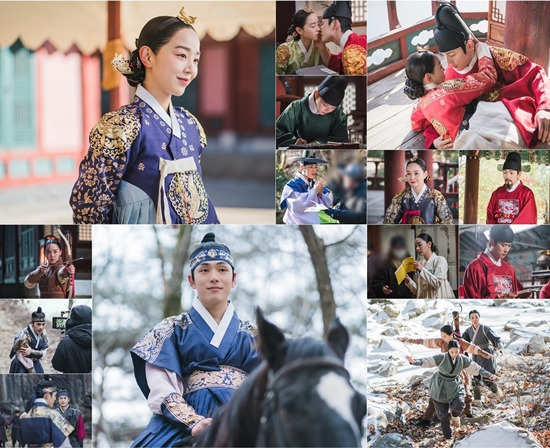 'Iron ChefQueen consort' released a behind-the-scenes cut to appease the end of the year.
TVN's Saturday drama 'Iron ChefQueen concert' (played by Choi A-il, directed by Yoon Sung-sik) leaves only two times to the end. I made a smile, a chewy tension, and a new romance that I have never seen anywhere, and took control of the audience by sweeping the hearts of viewers.
'Iron ChefQueen concert' was loved throughout the airwaves, sweeping ratings and topics in the activities of Shin Hye-sun and Kim Jung-hyun. The last 18 ratings soared to a maximum of 18.6% (average 15.5%), and continued to hit the box office with the top spot on all channels including terrestrial. In the first week of February (February 1 to February 7) released by Good Data Corporation, a TV topic analysis agency, the top drama category including terrestrial, general and cable was followed by Shin Hye-sun and Kim Jung-hyun, who showed their presence by showing their first place.
The hot-rolled moments of the actors in the behind-the-scenes photos released ahead of the final meeting raise expectations and questions about the ending: "Notachi" couple, who are a hot comrade from the growling chemi (? ), Shin Hye-sun and Kim Jung-hyun, who created a laughing scene every time, were the most popular secrets and driving forces. The synergy of the two people who are transmitted inside and outside the camera is exciting until the end. Shin Hye-sun's laughing hard carry, which is perfect for Kim So-yong, a heavy-duty tension of 'That World' with modern free-spirited soul, was unique. Shin Hye-sun naturally unravels the extraordinary and absurd palace survival period of "Sobong" (Kim So-yong + Jang Bong-hwan), creating an unprecedented character. His last performance is more anticipated.
Kim Jung-hyun's "heartbeat" smile, which was also seen smiling wide at the camera, was also captured; Kim Jung-hyun's presence played a major role in solidly catching the center of gravity of the play. Cheoljong is not easy to laugh without breaking the sentiment line, as he is a person who has to express a complex sentiment line such as comedy as well as childhood trauma and puppet king's anger. Kim Jung-hyun's acting, which freely crosses cold and hot water, shined with maximizing the charm of fusion historical comedy. You can get a glimpse of his unusual affection for the character in his hot passion to build up details without missing a small part. Cheoljong, who dreamed of a new world even in a constant crisis and did not break his conviction, is focused on what kind of ending his fate, which is uncertain about life and death, will create.
Bae Jong-ok and Kim Tae-woo, who added chewy tension to the royal court in the ensuing photos, are also interesting. Seol In-ah, who plays a tense maker and makes the drama more dynamic, and Nine-woo's script 'Adhering' mode also catches the eye. I am curious about the last move of the palace, which changes every minute. The appearance of Cha Cheong-hwa and Chae Seo-eun, who are the first honors of Kim So-yong's extraordinary palace survival, also makes viewers smile. The lively appearance of those who are synchronized with each other while walking through a rough mountain road gives a warm feeling. Especially, in the last broadcast, it is the best palace and Hong Yeon who attracted the enemies with their lives to protect Kim So-yong, so it raises the question whether three people can meet with a smile again. In addition, Kim In-kwon, Lee Jae-won, Yoo Min-gyu, Cho Yeon-hee, and Yoo Young-jae, who made the Iron ChefQueen consort more abundant, are expected to be more active.
Kim So-yong, who found out about the Great King who took power again and their schemes in the absence of Cheoljong, and Cheoljong, who survived as a life-long life and was in another crisis. There is more interest than ever in the future of the 'Notachi' couple, which can not be predicted even before one. Whether Kim So-yong and Cheoljong will be able to return alive, attention is paid to the reunion of the two.
"Iron ChefQueen consort" production team said, "The actors' performances, including Legend Combi Shin Hye-sun and Kim Jung-hyun, who showed the essence of fusion historical comedy, will show their true value until the end." "Please watch what ending Kim So-yong and Cheoljong are in danger of desperation."
Meanwhile, the epilogue 'Iron ChefQueen consort: Bamboo Forest', which contains episodes that were not shown in the main part of 'Iron ChefQueen consort', is released exclusively as a teabing onley. A total of two epilogues will be served to paid members of Teabing on the 13th (Saturday) and 14th (Sunday) in line with the end of the main title of 'Iron ChefQueen consort'.
'Iron ChefQueen consort' 19 times will be broadcast at 9 pm on the 13th.
/ Photo = tvN