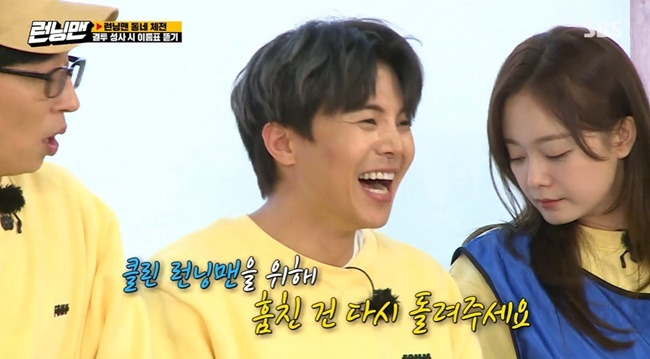 "I see a lot of children; you can't do this anymore."
It is a word left by Yo Jae-Suk in the thieving of some members in SBS entertainment 'Running Man'.
In 'Running Man', where the back of the head and betrayal act as a laughing point, thieving is one of the elements that give laughter to the audience. However, the members' thieving has frequently appeared in 'Running Man' recently, which is a level of concern that it will affect youth audiens.
On the February 14 broadcast, the thieving scene was caught on camera. Lee Kwang-soo was caught trying to steal the trophy seal by searching Yang's bag during the first mission of the neighborhood, "Different Quiz". Yang Se-chan, who anticipated the action of Lee Kwang-soo, kept the seal separately.
After a while, guest star Park Eun-seok became a victim of thieving. After returning from the showdown, he found that the entire trophy stamp he had collected disappeared. The crew said, "Please refrain from Thieving." He said, "Please return what you stole for Clean Running Man." Yoo Jae-Suk also pointed out that children audiens are watching: Turns out the culprit was a lower one. He returned five trophy stamps stolen from Park Eun-seok to his place, and the case was over.
This is not the first time a thieving has occurred within "Running Man"; some members would steal silently in a careless gap and then slap the back of their heads. Guests responded to the strong thieving of the members of the "Running Man" with thieving, as was the episode on December 6 last year. While Ji Suk-jin stole Song Ji-hyo's bag, Cha Tae-hyun, who came out as a guest, stole and stole Ji Suk-jin bag. Ji Suk-jin, who did not know this, was hanging only on his shoulder, and then Cha Tae-hyun was selected as a penalty and confessed to the crime.
In entertainment, the act of taking the other person's tools in various games such as chases often appeared, and anyone was accepted as anticipation and acceptance. Thieving was a fun factor and laughed. 'Running Man' also generously passed the audience to the joyful thieving of the members.
The problem is that such acts are happening frequently: twice thieving was made only on the broadcast on February 14, which was used as a laughing matter. Considering the impact of 'Running Man', which has a lot of young audience under 15 years of age, it can have a negative impact on imitation risk.
As the world changes, the 'line' allowed by laughter in the arts is changing from the past. There are also increasing audiens that do not smile and frown at gags and sadistic games that demean or mock others' appearances. For this reason, the entertainment crew is looking for a way to create laughter without inconvenience.
"Running Man" is always known before the start of the program as "it contains inappropriate content (thematics, language, and imitation risks) for teenagers under 15 to watch, so they need a guardian's viewing guidance." Like Yoo Jae-Suk's bone-thin horse, 'Running Man' is also the time to worry about making laughter in a different way than thieving